Cycling
Renting a bicycle is a great and easy way to get around Mishima. And, if your stay is limited, a bicycle is an efficient way of getting to all the spots you want to go to, such as Mt. Fuji photo-taking spots and nearby sightseeing spots like Kakitagawa Park.
■How to Rent a Bicycle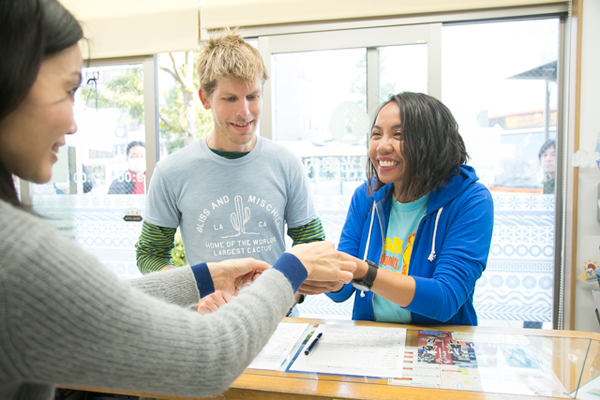 Fill in a rental form at the counter (ID required), receive the key for the bicycle, and you can be on your way from the bicycle parking lot!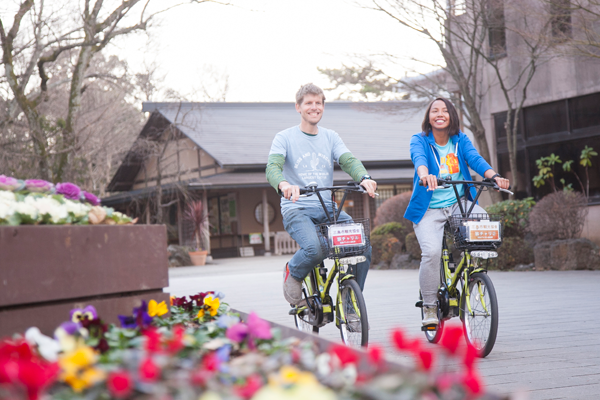 Please obey the highway code and get the bicycle back on time – have fun!*Photo provided by Tabi-chari
■Info on Bicycle Rental Stations
[Tabi-chari]
If you are going to tackle some hills or go some distance, it is best to rent an e-bike (power assisted). Rented bicycles must be returned to this same station.
■Charges: \500 for 3 hours (overtime charged at \100/30 minutes), \1,000 for whole day *Refundable deposit of \1,000 is charged when bicycle is rented.
■ Time: 9:00~16:30
■Closed: Monday (Rakujuen Park rental station is closed when the park is closed)
Mishima Station South Tourist Center's Station has 5 bicycles
Formalities
Mishima Station South Tourist Center
16−1 Ichibancho, Mishima
[Seseragi Rent a Cycle]
Jump on the "Kawasemi-go" (a recycled cycle) to see the city. If you book in advance, you can return the rented bicycle to another station.
■Charge: Free of charge
■Hours 9:00~16:00
■Closed: Open every day of the year
Mishima Station South Tourist Center's Station has 15 rental bicycles
Formalities
Mishima Station South Tourist Center
Renting & Returning
South Bikepark
16−1 Ichibancho, Mishima
Mishima Taisha Shrine Carpark Station has 5 rental bicycles
Formalities
Mishima Taisha Shrine Office
Renting & Returning
Mishima Taisha Shrine Office
2-1-5 Omiyacho, Mishima
Hirokoji Bicyclepark Station has 5 rental bicycles
Formalities
Hirokoji Bicyclepark
Renting & Returning
Hirokoji Bicyclepark
11-1 Hirokojicho, Mishima