Hot New Info
Mishima City traditional performing art "Noheibushi"
2021.08.05
---
Noheibushi is a local folk song presenting scenes of Mishima City.
There are many theories about the Origin of Noheibushi. In the late Edo period, trainings had been given to conscripted farmers (Nohei [in Japanese]) in Mishima. Based on the historic fact, the lyrics about Mishima City and Nohei dance were adapted in the early of Showa period to the melodies of "Noebushi" sung along the Edo main route. As such, Noheibushi in Mishima City is said to have stemmed from these episodes.
Noheibushi warms up the biggest summer festival in Mishima City, "Mishima Ohmatsuri." In addition to the Noheibushi parade down the main street, on the final night of the festival, many people just jump in for the dancing at So-Odori (all dancers' performance).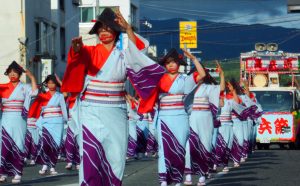 ♦ You can watch Noheibushi on our video streaming service.
Our streaming service is providing videos of people dancing and performing "Noheibushi" at popular sightseeing spots in Mishima City as well as Mt. Fuji viewing spots.
"Noheibushi" tour in Mishima City of Shizuoka Prefecture (Sightseeing Spot Guides)